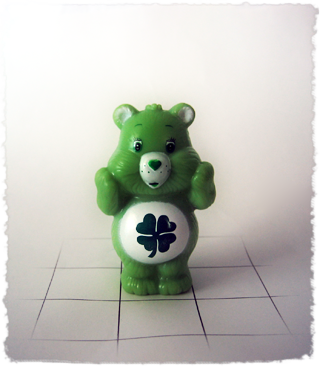 Description:
Short, Fuzzy, Green, Lucky.
Good Luck Bear is all about spreading good luck for everyone. He is green and his tummy symbol is a four leaf clover with heart shaped petals.
Attributes:
Agility d8, Smarts d8, Strength d6, Spirit d6, Vigor d4
Hindrances:
Loyal. Small
Skills:
Arcane Background (Miracles) d6, Climbing d6, Guts d6, Knowledge (Charms) d6, Notice d8, Stealth d6, Taunt d6
Pace:
6
Parry:
2
Toughness:
3
Charisma:
0
Edges:
Arcane Background (Miracles), Great Luck
Special Abilities:
Care Bear Stare (Bolt)
this is vs Spirit rather than Toughness. If successful then the opponent gains a level of fatigue and another level of fatigue for each raise (this can be done as a cooperative roll with other characters possessing the Care Bear Stare Ability). Once the character reaches incapacitated their attitude either changes to Helpful or they will Flee.
Power Points:
15
——————–——————–——————–——————–————————————
More About
Good Luck Bear
.
Creation Notes: