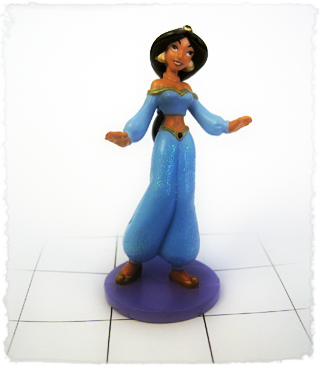 Description: Extra Long Black Hair. Brown Eyes. Arabian.
Confined to the palace, shielded from the outside world, she feeling imprisoned and longs for the "freedom" outside the palace walls—little does she know the oppression that would await her, were she not the Sultan's daughter.

Rank:
Novice
XP:
5
Attributes:
Agility d6, Smarts d4, Strength d8, Spirit d8, Vigor d6
Skills:
Arcane Background: Spirit d4, Guts d8, Notice d8, Persuasion d8, Stealth d6, Throwing d6
Pace:
6
Parry:
2
Toughness:
5
Charisma:
0
Hindrances:
Clueless, Stubborn
Edges:
Arcane Background: Spirit, Beast Master (Raja)
Power Points: 10
Powers:
Beast Friend, Animal Control
——————–——————–——————–——————–————————————
More About
Disney's Jasmine
.