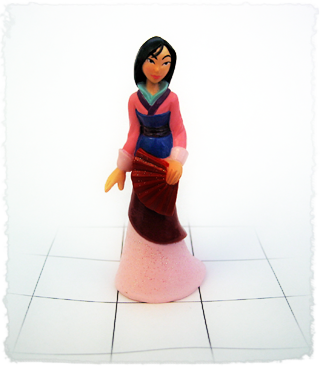 Description: Long Black Hair...Chopped. Brown Eyes. Chinese.
The Huns have attacked. To save her aged father from being drafted into the army,
Mulan
dresses as a man and leaves home in the middle of the night to join the army in her father's place.

Attributes:
Agility d6, Smarts d8, Strength d6, Spirit d8, Vigor d4
Skills:
Climbing d6, Fighting d6, Guts d8, Notice d6, Shooting d4, Stealth d6, Throwing d4, Chi Beast Friend Supernatural d6, Chi Beast Friend Natural d4
Pace:
6
Parry:
5
Toughness:
4
Charisma:
0
Hindrances:
Dependent (Becomes a soldier to protect her father), Stubborn
Edges:
Arcane Background: Chi Mastery
Powers:
Beast Friend Supernatural (Spirit)—allows communication with messengers of ancestors, Beast Friend Natural
Power Points:
20
Gear:
Pack, Bedroll, Blanket, Lantern, Canteen, Clothing, Flint and Steel, Quiver (20 Arrows), War Horse (Khan), Saddle, Winter Cloak, Lucky Cricket (Cri-kee) [+1 Benny Per Session], Bow, Staff, Short Sword, Chinese Imperial Armor (Plate)
——————–——————–——————–——————–————————————
More About
Disney's
Fa Mulan
.