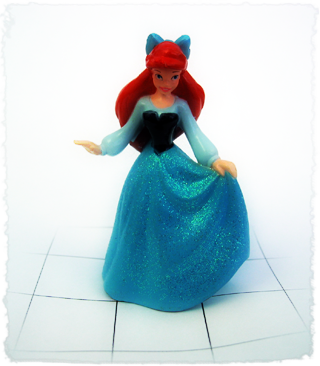 Description: Long Red Hair. Blue Eyes.
Youngest Daughter of Triton—King of the Underwater World. Fascination with the human word and a disagreement with her Father led to a contract made with Ursula—Banished from the Underwater World
for witchcraft. Ariel is now Human, and things have been smoothed out with her Father.

Rank:
Seasoned
Attributes:
Agility d8, Smarts d6, Strength d4, Spirit d8, Vigor d6
Skills:
Guts d8, Notice d6, Swimming d12, Stealth d8, Perform d8
Pace:
6
Parry:
2
Toughness:
5
Charisma:
0
Hindrances:
Young, Curious (About the Human World), Stubborn
Edges:
Arcane Background: Psionics
Power Points: 10
Powers:
Beast Friend
——————–——————–——————–——————–————————————
More About
Disney's Ariel
.
Creation Notes:
I used Necessary Evil for the handling of powers because it allows a second Major Hindrance. I right out cheated and gave her the a perform skill with d8, which is not a standard skill, but is mentioned in Savage Worlds Explorer's Edition in the converted settings section (p.137-138) ; then to make it fit the rules better I upped her rank to Seasoned.