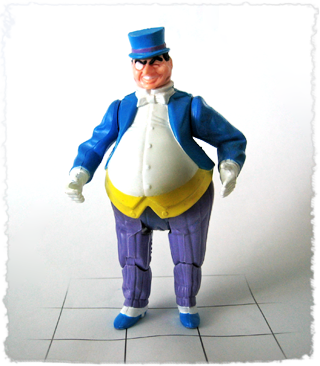 Description:
The Short Fat Man With the Umbrella, Top Hat, and Monocle perched upon his Beak Like Nose.
Oswald Chesterfield Cobblepot, mercilessly teased as a child for his stature, his build, the umbrella he always carried due to his mother's over-protective fears brought on by his Father's death by pneumonia (which he caught after being drenched in a downpour) and his love of birds—rejects the high society into which he was born, and becomes a major player of Gotham's seedy underbelly.
Rank:
Novice
Attributes:
Agility d8, Smarts d6, Strength d4, Spirit d6, Vigor d8
Skills:
Boating d4, Driving d4, Fighting d8, Gambling d6, Guts d6, Intimidation d4, Notice d6, Piloting d4, Swimming d4, Knowledge: High Society d8
Pace:
5
Parry:
6
Toughness:
6
Charisma:
-2
Hindrances:
Greedy(Major), All Thumbs, Distinctive Appearance, Ugly
Edges:
Filthy Rich, Gadgeteer
Gear:
Weaponized Umbrellas (Helicopter, Dagger, Gun, Gas, etc.)
——————–——————–——————–——————–————————————
More About
D.C. Comic's The Penguin
.
Creation Notes:
I used the Necessary Evil rules as The Penguin is a Comic Book Villain. I gave him an extra Minor Edge instead of a Major one. I also reduced his pace because of his distinctive waddle.