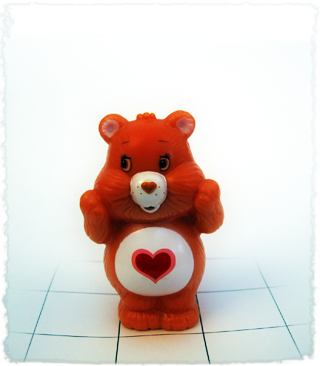 Description:
Short, Fuzzy, Brown, Sensitive.
Tenderheart is a loving and lovable bear who knows lots about helping others share their feelings. By helping people show they care, Tenderheart Bear helps spread his love and make it grow. He wears the perfect symbol for his job on his tummy—a heart.
Attributes:
Agility d6, Smarts d8, Strength d6, Spirit d6, Vigor d6
Hindrances:
Heroic, Small
Skills:
Arcane Background (Miracles) d6, Climbing d4, Guts d6, Knowledge Happiness d8, Notice d6, Persuasion d8, Shooting d4
Pace:
5
Parry:
2
Toughness:
4
Charisma:
2
Edges:
Arcane Background (Miracles), Command, Charismatic
Special Abilities:
Care Bear Stare (Bolt)
this is vs Spirit rather than Toughness. If successful then the opponent gains a level of fatigue and another level of fatigue for each raise (this can be done as a cooperative roll with other characters possessing the Care Bear Stare Ability). Once the character reaches incapacitated their attitude either changes to Helpful or they will Flee.
Power Points:
15
——————–——————–——————–——————–————————————
More About
Tenderheart Bear
.
Creation Notes: I read through the Fantasy Companion Race Creation guide when creating Tenderheart bear. I chose to give him the Hindrance Small and Arcane Background (Miracles) as Racial traits for the Care Bear Race. I fudged it a little and gave him an extra Edge.