We stopped at Burger King and used a 2 for 1 coupon for Whoppers the other day, and I noticed that they are selling these. (Pardon the Crummy Photoshop Job)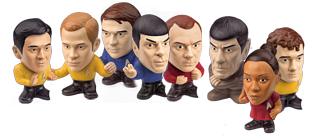 They are so tempting and would be perfect for the site, but I don't frequent fast food at all and couldn't really justify the cost. But if someone out there wants to see a character on the site. I'm not above recieving donations. The rule for a character appearing on the site, is that I must have the toy/figure in possession (I know I fudged a little with Maleficent, let's say that's the exception that proves the rule) to take the proper photograph (and I want to stick with toys that could be used on a 1" grid, so I want to keep them roughly 3 inches tall or less—unless they're some sort of monster [stay tuned, I've got a great one that breaks the height rule]).
So if you want to see a character on the site, send me the toy/figure.